I have heard of clays when I was a kid, back then it was just mud I used to make humans figures with!
Apparently as we grew up we learnt that there's more to this! 
Clay has been used for medicinal, therapeutic, and cosmetic benefits since centuries. This naturally occurring substance isn't just mud, but actually weathered volcanic ash and decomposed plant material, which makes it rich in electrically charged minerals like calcium, magnesium, potassium, iron, and silica.

Clay has the ability to absorb impurities from pores, thus helping treat acne, can heal skin allergies and sunburn, can balance oil production, and boost skin elasticity and collagen production. There are different types of clay depending on their origin and composition, offering varying benefits for the skin.

Read on to know more about the types of clay.
Bentonite clay is created from volcanic ash. The U.S. is the top producer of bentonite clay, with much of the production happening in Wyoming. In bath and beauty products, bentonite clay gives products a nice "slip.". It has strong oil absorbing properties, and is able to absorb more than its mass in water. This makes bentonite clay a great choice for very oily skin.
Add-ins for dry skin: honey, yogurt, cream, milk, or vegetable glycerin instead of water. Or you can add pureed avocado, cucumber, or a few drops of carrier oil (such as Jojoba oil) to the mixture. 
Add-ins for oily skin: Witch Hazel extract or apple cider vinegar.
Add-ins for acne-prone skin: 1-2 drops of tea tree or lavender essential oil.
They're naturally coloured and do not contain any dyes or pigments. The various shades are achieved by variations in the minerals found in the soil in the different regions of Brazil. Bramble Berry carries five different natural clays — Natural Brazilian, Purple, Yellow, Pink, and Dark Red. Brazilian clays have an "average" amount of absorption, making them a suitable additive for Dry/Sensitive Skin
Add-ins for bags under the eyes: green tea.
Add-ins for skin restoration: rosewater, frankincense.
Add-ins for skin tone: chamomile tea, macadamia oil, myrrh, and neroli oil.

Pink clay is considered a type of kaolin (kaolinite) clay. It has a fine texture like kaolin, and is suitable for dry skin. The clay is a light to medium pink shade, which comes from a naturally occurring iron oxide. In some projects, it can take on a deep red color or an orange hue. Pink clay makes a fantastic soap additive for gentle oil absorbing properties.
Add-ins for inflamed or aggravated skin: rosemary, chamomile, lavender, or lemongrass oil.
This clay comes from France and is known for its terrific oil absorbing properties. It has a fine texture and is commonly used for oil absorption in facial masks. The light green color comes from decomposed plant matter and iron oxides. With its negative charge and very fine texture, it acts as a magnet, drawing out the negatively charged toxins and poisons from the skin, washing away impurities and leaving your skin clear, smooth and hydrated, works best for Dry skin and Combination skin 
Add-ins for purifying skin: honey.
Add-ins for pore tightening: rose water and rosemary oil.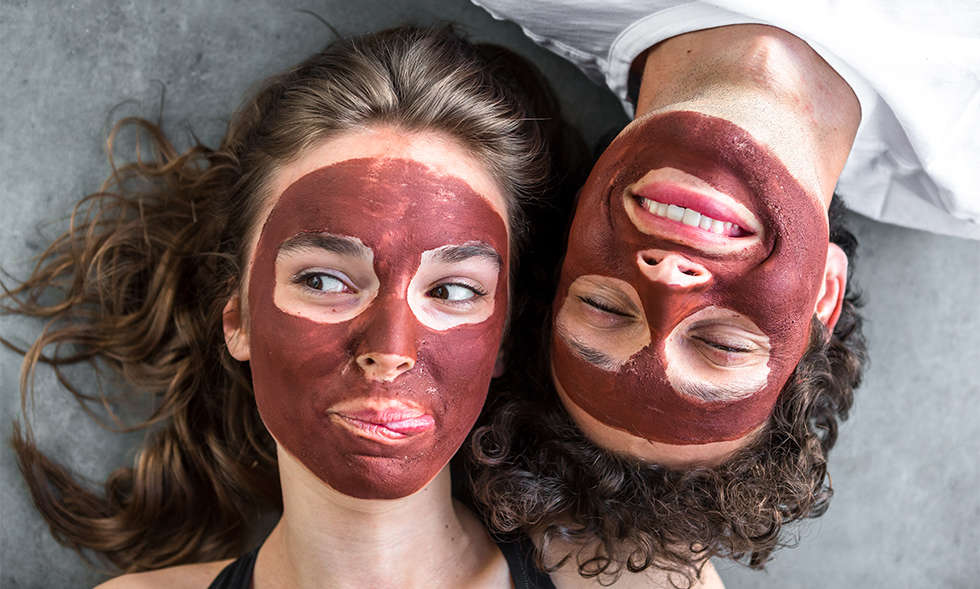 Red clay found anywhere from Georgia to Morrocco is extremely high in iron and effective for a skin detox. Once applied to the skin, red clay binds impurities and dirt into its paste until dried. Its drawing abilities make it a great toner and cleanser for acne-prone, oily, and problem skin.
Benefits of red clay masks
Dries out blackheads and gently removes them

Tightens pores

Reduces signs of aging

Reduces dryness by not stripping off the skin's natural oils

Improves skin tone
To make this clay, mix equal parts of the powdered form with filtered water or rose water until it forms a paste. You can also use apple cider vinegar instead of water for an intense purifying mask. Let it dry for 20 minutes, less for dry skin. Rinse with warm water.
Add-ins for inflamed or aggravated skin: rosemary, chamomile, lavender, or lemongrass oil.
Calamine powder is a composition of zinc oxide combined with some amounts of ferric oxide. The signature peachy pink colour of calamine powder is due to the presence of small amounts of ferric oxide. It has a calming effect on the skin and also possesses toning ability. This powder is one of the most absorbing and soothing clay as well. It is traditionally used as an antiseptic. Calamine powder is mainly used to tackle skin redness, skin itching in summers and other skin irritations. The presence of iron (in the form of ferric oxide) in Calamine powder (when used as a face mask) increases the circulation of the facial skin. It also soothes irritated, acne prone and sensitive skin.
Add-ins for inflamed or aggravated skin: rosemary, chamomile, lavender, or lemongrass oil.
One important thing to note about any clay mask is because they are made with minerals and ions, you'll need to use a glass, pottery, or wooden bowl when mixing your ingredients. A metal bowl will cause the clay to react and lose its beneficial properties.